Modding/Weld Skin Corrections
When welding two skinned vertices (either automatically via the script or manually) 3dsmax will attempt to combine the weights of the old vertices into one. Unfortunately it's not very good at it and many vertices on the zero x axis end up with odd weights. This results in distorted moprhs (see below).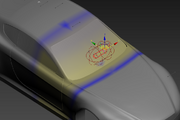 To correct the distortion you will need to check and correct the vertices. This can be done by comparing the vertices either side of the central vertex.
Expand the skin modifier and select Envelope
select one of your bones and check for distortion
select the three central vertices and open the weight table
Usually there is one vertex that's the odd one out, amend its values to match those other two. (You may need to untick normalize to stop max from altering your amendments - remember to re-tick it once done)
Repeat the above steps working along the body till you are satisfied with the results